Pricing for your pets grooming is based on the amount of time and product needed to achieve the beautiful coat you want.
Each pet is unique, even within the same breed. For example, we are often asked, How much do you charge for a Golden Retriever? One flat price cannot be set for any breed. Coat type, size of the dog, living environment, home care, and frequency of professional grooming simply create too many variables.
Lets say for the sake of this conversation, though, that we have two dogs that are identical in size and coat type, but one lives indoors and one lives outdoors. Its not practical to think that we can wash them the same way and get good results. Having said that, we can give a firm price for any pet once we see them and evaluate all the elements listed above to determine the amount of time and product necessary to get the professional results you expect.
Every client at Tailored Tails receives a firm price for their approval before any grooming begins.
Rest assured that our pricing for all pets is competitive for this area. Its our job to know.
In addition, you will receive much greater value here at Tailored Tails, for several reasons:
First, we employ only professionally-trained or Certified Groomers. Did you know that grooming is not a regulated industry and not all Groomers are Certified? There is no such thing as licensing for Groomers!
Second, we have a comprehensive Safety Program in place that includes too many details to list. We also check for current vaccinations on all pets entering our Salon for the safety of everyone. Current vaccinations are required by state law, county regulation, OSHA requirement, and insurance regulation. Would you really risk taking your pet to any facility that does not check? If any facility is not checking vaccinations, I would have to wonder what else they might be overlooking a scary thought at best!
Thirdly, we include several things that other salons do not, such as custom-selected shampoos for each coat type, conditioner is always included, and nail filing is always included as well. Other salons charge additional for these professional details, but here at Tailored Tails we believe every pet deserves the best without having to nickel & dime our clients for each item!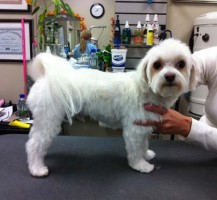 Dog Grooming Services
We offer three basic grooming packages for dogs:
Bath & Brush (B&B)
Neat & Tidy (N&T):  B&B + neatening of face, feet, & furnishings)
Tailored Tails (TT) – (a B&B + all over haircut, Breed Standard or to your special request)
All packages include: 
2 Baths
Coat Conditioner *
Ear plucking / cleaning
Nail Trimming
Nail Filing *
Sanitary Trim
Pads / Hocks Trimmed
*Often an extra fee at other salons, but not with us! Your pet deserves the best!
All products used are custom-selected based on coat type & condition. We use only the best high-quality products for excellent results and many of our products are all natural or organic.
Once your grooming package is selected, we offer many Spa Selections, Specialty Services, and a la Carte Choices you may add to really pamper your pet! Doesn't your pet deserve a little pampering? Please read on…
Spa Selections                                                                 A la Carte Choices                                        Specialty Services
Comfy Canine Moisturizing Treatment                      Before & After Grooming Care                     Brushing & Combing Lessons
Designer Dog Dead Sea Mineral Mud Treatment     Bottoms Up! Anal Sal Expression                 De-skunking Treatment
Healthy Coat De-Shedding Treatment                        Brushing & Combing Only Service               Express Grooming
Hydro-Massage Bath                                                      Flea-rid Treatment                                           Hand-stripping & Carding
Re-circulating Hydro-Bath Treatment                       Nail Polish                                                          Puppy Orientation
Pawticure                                                                         Pad Balm
Photo Snapshots
Specialty Shampoos
Teeth brushing
---
---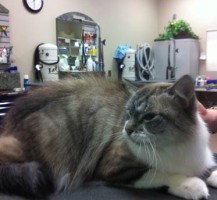 Cat Grooming Services
Long Haired Breeds: Complete Grooming ……… $62
Short Haired Breeds: Complete Grooming ……… $49
Both packages are for cats 12 lbs. or less; 12 lbs. and above add $15 to the complete grooming package
Both Include: Bathing, Drying, Comb-out, Ears Cleaned, Nails Clipped, Mini Sanitary Trim
(Sanitary trim is optional for shorthaired cats)
Additional Cat Services
Mini Sanitary (Trim around genitalia only) $5
Regular Sanitary (Mini + lower tummy) $8
Super Sanitary (Regular + all underside) $10
De-Shedding Treatment $18
Lion Trim $32
All-over Haircut (request length) $28
Pads Trimmed $8
Toe Tufts Trim $8
Soft Paws Nail Caps:
•  Front only $18
•  Back only $15
•  Front & Back $25
Aggressive Cat/Biter Fee $35
Pelted Coat Removal $75
Severe Matting Removal $35 $50
Fecal Removal $35
Make an Appointment Today!